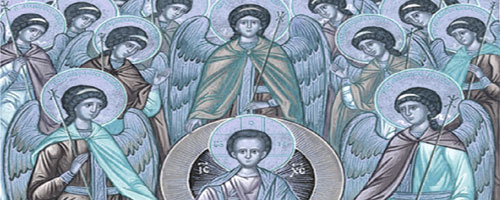 Angel Is Not A Word That I'm Often Called
Ed, my old neighbor from Saskatchewan, called yesterday and most times when he calls, I'm searching for information about something, and I was then too. Ed believes by my age that I should say that, I don't have any answers and I'm not looking for any. My old neighbor feels that once you have found information that you were looking for, no one wants to hear it anyway. He accused me of searching for information that, "No One Would Care About but Me!"
It just so happened that I was looking up information about St. Michael and All Angels as a Lesser Festival Day when Ed called. This Feast Day has been celebrated since the 12th Century on Sept. 29, which this year is on a Sunday. Ed asked, "Is that the day you put on wings, and they lift you in and out of the pulpit by a rope and pulley? Or is it the day, The Angel List, is hammered on the church door and congregational members see if their name is on it?" I told him to stop with his wisecracks. He admitted that an angel is one name he has never been called and not likely will be called by Ruby his wife.
I told Ed that Time Magazine (Sept. 18, 2018 issue) reported that most Americans believe in angels. Also, 55 percent of Americans think that they have personally been helped or saved by a guardian angel. Ed had another smart remark which was that angels are often seen as cute, harmless baby cherubs and that they need to be marketed as mighty hockey players in Canada. Ed wanted to know what angels do for in his thinking they do not play hockey anywhere.
The Bible says that angels were created as holy spirit beings to serve God. The English word angel comes from the Greek word, which means messenger. As messengers of God, angels may be invisible or visible. We may encounter an angel in a human disguise. In scripture, angels appear at critical moments in Jesus' life to accomplish God's gift of salvation for all. Angels announced the birth of Jesus and his resurrection. They ministered to Jesus during His life.
St. Michael and All Angels Feast Day are about our thankfulness that angels serve God, giving glory to God's Name and His love for sinners. We are thankful that God's good angels are many and powerful. We rejoice in good angels, but they impress upon us that some angels rebelled against God and were cast from heaven to earth by St. Michael.  The greatest fallen angel is Satan, who has many other demons with him. They hate God and seek to destroy everything good, especially faith in Christ. Satan is the spoiler, the tempter, the liar, and a murderer. He is the force of evil who led Adam and Eve into sin, who tried to mislead Jesus from accomplishing God's victory over evil.
As Christians, we are sure God is not out to accuse us or lie to us. He acknowledges our sinfulness but gives us forgiveness and Christ's righteousness in His love. Not only do holy angels in heaven serve God, but they may be God's messengers to help and defend us here on earth.