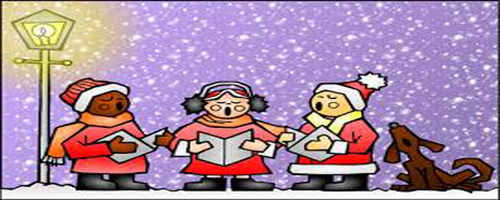 Don't Get Run Over By A Reindeer On Christmas Eve
Ed, my neighbor next door, is not home for Christmas this year. He and Ruby are celebrating Christmas in Edmonton. My neighbor had told me before they left that I should be careful because I could get run over by a reindeer on Christmas Eve. He loves to sing, "(How) Grandma Got Run Over By A Reindeer."
Ed delights in telling me that he would come out to a Christmas Eve Church service if we cut out the Christmas carols and had some good classic Christmas music. I asked him if he was referring to something like, "Handel's Messiah," as some classic music. He answered, "No the good old classic Christmas music like, "Walking in a Winter Wonderland, or I'll Be Home for Christmas, is what I'm talking about." I said that they might be familiar songs, but not usually used in church on Christmas Eve. "That's too bad!" Ed said to have the last word. 
Christmas Eve is a special time when many folks do make a great effort to be home for Christmas. Many of us also go to church unless we cannot drive through snow blocked roads. Christmas Eve will find us at church with the lights low and candles aglow, singing carols we know from our hearts. There we celebrate the story of Jesus' birth. We hear the events of the story from chapter 2 of Luke. The events are: Joseph and Mary went up from Nazareth in Galilee to Judea, to Bethlehem the town of David. They went there to register for the census that fist took place while Quirinius was governor of Syria. They traveled to Bethlehem for the census because Joseph was of the house and line of David. While they were there, Mary, who was expecting a child gave birth to her firstborn, a son. She wrapped him in cloths and placed him in a manger because there was no room for them in the inn.
There were shepherds out in the fields keeping watch over their flocks at night. An angel of the Lord appeared to shepherds and terrified them. The angel told them that they didn't need to fear, for he had good news of great joy for them, and for all the people. He shared that a newly born Savior was in the town of David, and the one born there is Christ the Lord. The angel said that they should go and check it out. They should go to Bethlehem and see there a baby wrapped in cloths and lying in a manger. Then the heavenly host of angels appeared with the angel praising God and they said, "Glory to God in the highest, and on earth peace to men on whom his favor rests."
When the angels left the shepherds, they went to Bethlehem to see for themselves what the angel had said. They found Mary and Joseph and the baby lying in a manger. They shared with others that they had seen the child as the angel had said they would in Bethlehem.
For some, Christmas must be snow and mistletoe and presents under the tree. For me, it is the baby Jesus wrapped in cloths and lying in a manger, that I need to see.