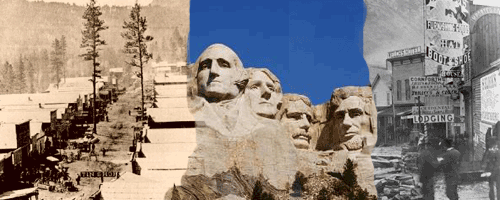 Go to the Casinos – Stay Out of the Museums
Ed, my neighbor next door, believes that we are traveling to the right place. Ed heard that we are off to Deadwood, South Dakota in April. He has been to Deadwood and claims he tried gambling at every casino in the town. That sure surprised me, since Ed isn't one to waste his money. Ruby explained that Ed had a huge, years-old, change jar on his dresser and he sorted out every American penny, nickel, dime and quarter in the jar. He converted his American change into paper money to feed the slots. Ruby says that he was no big spender with thirty-five one dollar bills to gamble with. I felt relieved that Ed didn't gamble away much money.
Ed knows I'm not a gambler, yet he was disgusted to hear that I am planning on checking out all the museums in Deadwood. I asked Ed if he went to either the Adams or Days of 76 museums. I also asked if he went up to Mount Moriah Cemetery to see the graves of Wild Bill Hickok, Calamity Jane, Poker Alice and Seth Bullock.
"Didn't have time and didn't want to," Ed said. "If it was the other way 'round, do you think Wild Bill or Calamity would go to the graveyard to see my grave? Only time I go to a graveyard is for a 'have- to-go-to' funeral," Ed added.
I don't want to mention Ed's comments about wasting time in museums. The only history Ed can tolerate is if it comes in a movie with enough action to keep a person awake.
Since history, museums, and cemetery visiting had Ed all cranked up, I tried to ask if he had visited Mt. Rushmore, which is close to Deadwood. I should have known I wouldn't get very far.
"Why would I want to see four dead presidents' faces carved in granite? If their faces are on American money, I'm interested, but not on rocks." Ed said.
I find it interesting that Ed and I can visit the same place and each be interested in different activities and concerns. People flocked to Deadwood in 1876 because gold was discovered near it. A few got rich and a few became famous, but that doesn't mean the rest didn't matter. The past, present and future is never simply about the rich or the famous, but the truth that everyone plays a part in their time and place. The rich, famous, and ordinary all end up dead in a cemetery.
We like to make famous people of the past and present into heroic characters. We turn historic frontier places into tourist centers despite the truth that they were once dangerous, often deadly and lawless. Hearts are always looking to strike it rich–in the past by finding gold, today at the casino.
God, in His mercy, has offered us the richest strike of gold possible through faith in His son, Jesus Christ. Jesus came to Jerusalem, not to take over town, but to lay down his innocent life for sinners. They crucified him on the cross and divided up his clothes by casting lots. It is better than gold that the blood of Jesus, God's son, purifies us from all sin.