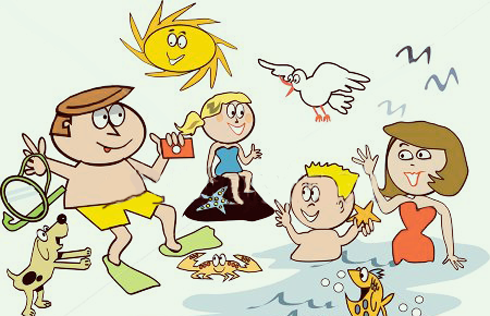 Ed, my neighbor next door, had no sympathy for me when I told him our relaxed holiday turned out to be a do-it-yourself experience. We like to take the train from Minot, North Dakota to Vancouver, Washington. We were all set to relax on the train and leave the driving to the train engineer, but a train derailment down the line left us facing travel delays that could stretch into more time than we had to spend for our holiday. It meant either driving to the Pacific coast ourselves or going home. In a matter of minutes we were turning my trusty Pontiac westward for a run through South Dakota, Montana, Idaho, Washington and Oregon State. We bought a general map of northwestern U.S.A. and travelled without MapQuest or a GPS. We sped across America by map and road signs and pulled up to our destination early evening the second day of our travel west.
Ed is always intent on what things cost. "How far was it round trip? That must have meant a lot of gas and some motel rooms. How many years will it take working at Walmart to pay for this trip?"
Through the years, I have learned that Ed only likes enough information to draw his own conclusions! I tried to answer so he would have lots of material to calculate the costs in his mind.
"It was slightly more than five thousand kilometers. We spent four nights total in expensive motels, but my wife says they were cheap. We ate two meals out a day and I starved in between the two meals," I told Ed. Then, just to get him really wondering, I added that we could bring back sixteen hundred dollars worth of goods tax free between us, as long as we had the receipts to verify the cost of what we bought. I suggested that it can take a while, as they add up your receipts at the border. Ed assured me that it would be seconds if it was his receipts. He was then quick to ask if we spent at lot of money while at our daughter's at Vancouver.
It is hard to put a price tag on all the things we do. Exploring the pacific coast at Depoe Bay with my daughter and grandson was priceless. Climbing bluffs, finding starfish, checking out countless tide pools on the beach, dodging ocean waves crashing along the shore was worth millions. Being with our family for meals and celebrating an anniversary with cake and champagne was better than gold. Families do not always stay together. Some must move for work or school. Some in a family will die. This side of heaven there is no permanence and plans change abruptly. Everything costs in terms of time or money or effort. Thankfully, God gives a value to us that is priceless. It will not rust or decay. It cannot be stolen. It cost Jesus His life.
Many believe that there is no cost to sin, that it doesn't hurt the one who sins, God or others. God has always tried to keep us from the high cost of sin and its destruction. His final answer was to give Jesus to us to pay the price of sin for us. The cost of sin was paid with His holy precious blood with His innocent suffering and death for us. It is too good of a bargain to miss!