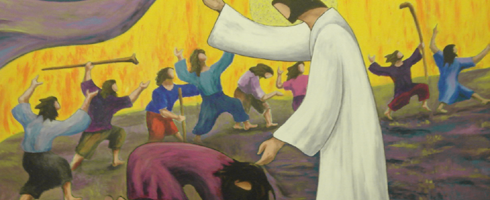 Ed, my neighbor next door, found that he and Ruby had a house full of company on Thanksgiving weekend. Ruby's sister and family showed up completely unexpectedly fromQuebec. Ruby's sister, Ruth, never gives notice they are coming. She likes to surprise her relatives with a knock at their door. Some of Ed and Ruby's grown children were also coming home for the weekend, so they were busting at the seams with company. It brought Ed to our house to borrow our folding chairs.
Ed has a longtime aversion to his sister-in-law, Ruth. Ruth wanted Ruby to ditch Ed for some fellow, quite a bit better, when Ed and Ruby were first dating. Ed sees no reason all these years later to let Ruth's poor judgment be forgotten. "When I kept cattle, I could go to the farm and make myself scarce when unwelcome company showed up. Now, I can't even hide at the barn from Ruth and her husband, Edgar, a banker. Having a banker in the family is almost as bad as having a preacher. At least I'm thankful there are none of them in the relatives," Ed informed us as he gathered up our folding chairs to take home.
Some families seem to accept each other easily, even those members with poor judgment. Some families keep company only with those other family members that they like. Families can be a real test of our thankfulness and tolerance. Competition, jealousy, and different personality traits can result in irritation and distance between family members. Some relatives are welcomed as kissing cousins and some are greeted like they can cause hives.
Thankfulness doesn't always come easily to us. The Bible says, "Do not be like the horse or the mule which have no understanding but must be controlled by bit and bridle or they will not come to you." It seems that we must be led to be thankful, for it does not come easily or naturally to us. What we are not thankful for often overshadows our thinking, as this poem suggests:
  "
The frost is hard to scrap off my windshield, and the blowing wind is bitter from the snowy field.
Don't expect me to be thankful for bitter winter weather or weekly work, nor for bills or ills or spills!
Some are thankful for health and wealth but not when they're sick or in debt or cold and wet.
Who is thankful for getting older and for God they have not met in person yet?
"
When Jesus was on his way toJerusalemhe met ten lepers who stood at distance and begged Jesus to have mercy on them. Jesus told them to go show themselves to the priests and while they were going, they were cleansed of their leprosy. Only one of them returned to give thanks to Jesus for his healing. The other nine were too eager to get declared clean by the priests to take the time to say thank you to Jesus. Sometimes, we are like the nine unthankful lepers, for we fail to say thank you for Jesus' great healing of our sinfulness. May God bridle us with His word and lead us with it as a bit of thankfulness in our daily lives.