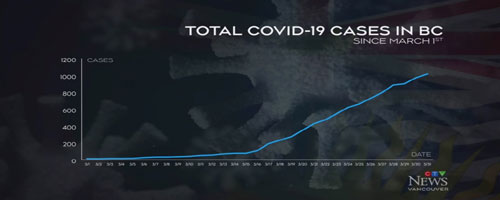 There Is A Time For Self-Isolation – Keeping Away From Others
"I hear you're having lots of cases of Covid 19 confirmed in British Columbia," Ed, my old neighbor from Saskatchewan, said yesterday when we skyped.
"More than we want," I answered. "Even our curling has been canceled, when my team was winning our games," I grumbled. The wife and I are not going out unless it is very needful, so after 52 years of marriage, we have the opportunity to get to know each other better. It is a-stay-at-home time here in BC with your family but not with any friends, or neighbors visiting. We are thankful that we are not sick, and we are gaining patience in going nowhere and doing nothing. Many of us are in a willing house arrest here.
It is strange to isolate ourselves from others as a safety measure. Our province is a destination for tourists and travelers. It is a province that is home to many ethnic groups from around the world. We have many international connections that make the threat of exposure to the virus higher than some other regions of Canada. All provinces have reported cases of Covid 19, and the virus keeps spreading around the world so that no country or province can be guaranteed of avoiding it.
Ed claims hearing about Covid 19 is like hearing gossip. Gossip changes day by day, depending on who you are talking to and what it is about. Like gossip, folks believe what they want to think.  My old neighbor is certain that Covid 19 is only a threat in BC and Ontario, and it will have little effect in Saskatchewan.
I sure hope he is right.
Ed challenged me to explain God's part in this pandemic and the plagues of the past. I asked Ed if he was blaming God for Covid 19 or asking why God couldn't deliver a vaccination to prevent it. I told Ed that I cannot speak for God. My experience as a pastor is that folks who had no time for God or his word when they were healthy, become open to God when in a hospital bed. Being sick, or hospitalized, or facing death, motivates individuals to look for a higher power to give them hope and peace.
God can encourage us when things seem very pessimistic. When we are isolated, we are more willing to speak with God.  In isolation, television, computer, video games, and cell phones can become boring day after day. Stuck at home is the perfect time for God to speak through His word to us. Have we forgotten that God's thoughts are not our thoughts and His ways, not our ways? We fear but He says, "Fear not!"
Even in attending church services, we may be anxious and not ready to hear God's word to us to trust Him in all things. At all times, we have an opportunity to seek the Lord who loves us. Perhaps only in the real threat of danger and death, do we forsake our evil thoughts and wicked ways. God promises if we turn to Him, He will have mercy on us and freely pardon us. "We know that in all things God works for the good of those who love Him… Romans 8:28"