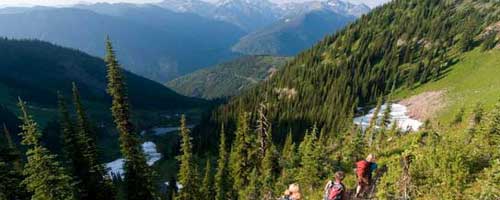 Use The Roads Already Built Through The Mountains
                 Ed, my neighbor next door, has decided that he is going to take a trip to British Columbia one of these summers. He is sure that if an old goat like me can get through the mountains and back home, anyone can do it. He is right. The #1 highway through the mountains is good, and any person can enjoy the grandeur of the huge mountains that dominate the province of B.C. I told Ed that the Rogers and Kicking Horse Passes were like Saskatchewan because it was snowing as we went through them. Highway signs there call for snow tires or chains to be used October through April. Driving from Saskatchewan we had our snow tires on, and felt at home in the falling snow.
                Many of the towering mountain areas are unspoiled by human activity, but the valleys and lakes are a different story. B.C. developed because of gold being discovered in various places, and people flocked to the region in the hopes of striking it rich. Those that didn't get rich stayed and became part of the development of the mountain province.
In the mountains, you have to go where you can get through. You cannot go over the mountains any place that you choose to go. The mountains don't move you must do the moving. Yes, dynamite can move some of the mountains, but the mountain can reclaim a road or town in seconds. Mountain avalanches cover up human workmanship in a blink of an eye. Respect for the natural power of the mountains should never be discounted. Don't fight a mountain because the mountain will win.
I believe if I lived in a mountainous area I would have a healthy respect for the mountains as my friend. Yet, I know talking about respect is easier do than showing respect. Disrespect comes when the power, beauty and force in front of us gets clouded or foggy. Why do serious road accidents happen close to home? We get careless and unimpressed with what is most familiar for us as the road near home. As children we get tired and bored with what we have, and indifferent to what that is meant to be a beautiful power and force in our lives. Students can lack respect for their teacher and their grades suffer. A husband and wife can become indifferent to each other and their marriage may crumble. Sheep can ignore their shepherd and get lost or in danger from a predator. Thank goodness disrespect can be recognized and cured with a change of attitude and actions. Best of all there can be full forgiveness for disrespect.
Many did not respect Jesus while he was alive here on earth. They just didn't understand who he was or where he wanted to lead them. As God's good shepherd for all, God wanted Jesus his Son to lead his people to forgiveness, righteousness and abundant life as their shepherd. Many disrespected Jesus because they wanted to get to God their own way. It is like trying to cross the mountains without using the roads that are there for that purpose. Jesus said it this way, "I am the way and the truth and the life. No one comes to the Father except through me."