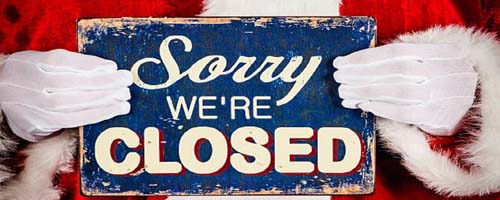 Are You Ready For What Comes Next?
Ed said yesterday, "It used to be clear that the big event after Halloween was Christmas. Now, who knows what will get canceled next?" I agreed that since the coming of Covid 19, so many things have been canceled or put on hold. I shared with Ed that presently we are getting flattened by high numbers of new cases of Covid here in BC. Are we facing more lockdowns or shutdowns?
My old neighbor is concerned that Christmas will get canceled in 2020 when not even Santa will be allowed to visit homes. A stay-at-home Christmas with no visitors well could be our future here in BC., but I told Ed that I doubt that it will be the case in Saskatchewan. It seems from here that the folks in Saskatchewan are doing much better at keeping lower cases of Covid in this pandemic than we are in BC.
Some people are done Christmas shopping in November, as they are eager to get ready for what comes next. Some seldom plan for the future. It goes without saying that when Dec. 25th arrives, it will not wait at the garage while you get ready for it to come inside your house. As we get into December, most people don't put off getting Christmas gifts until later. Many are working from a list of names for whom they want to buy a present. Most approach Christmas determined to get ready for the inevitable. If Christmas is inevitable, so is the day of our death or the return of Jesus from heaven. Which one will be first?
Ready or not, Christmas Day will come. Some may love Christmas Day while others may dismiss it or ignore it, but it will arrive. The end of the Church Year and the Church Season of Advent remind Christians that Christ will return visibly to judge the living and the dead on the last day.  "As lightning that comes from the east is visible even in the west, so will the coming of the Son of Man." (Matthew 14:27)
When we have a specific day or an actual appointment time to get ready for, it is much easier to be prepared. Christ will return to earth on a particular day, known by God alone. (Mark 13:32) Jesus confirms, "No one knows about that day or hour, not even the angels in heaven, nor the Son, but only the Father." Jesus also warns that we need to be ready at all times, as He will return at an hour when we are not expecting him. We must not forget heaven is our home, not this earth.
The return of Christ is a source of hope and joy for Christians. "Christ was sacrificed once to take away the sins of many people; and He will appear a second time, not to bear sin, but to bring salvation to those who are waiting for Him" (Hebrews 9:28). When the trumpet call of God comes, believers in Christ found here on earth will be caught up with the Lord forever. (1 Thessalonians 4; 13-18) When the roll is called up yonder, we'll be there. "We wait for the blessed hope – the glorious appearing of our great God and Savior Jesus Christ." (Titus 2:13)